Shaffer-Motorsports is most proud of the one asset which plays a large role in its continued success. You guessed it, our people!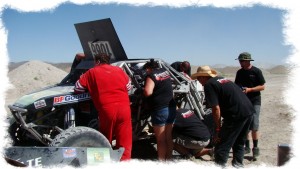 Shaffer-Motorsports is currently supported by more than a dozen crew members dedicated to professionalism and success. Logistics, pit support and communication are planned months in advance. Countless hours of vehicle testing and preparation take place before the vehicles even hit the dirt.
Our success wouldn't be possible without our Pit team and their vehicles. Our pit team is the blood and sweat of a race, often waiting hours just for a chance to put in some elbow grease and see the vehicle take off to the next pit. They have the ultimate responsibility of getting our vehicles to the finish line and are prepared to do whatever it takes to win.
THE DRIVERS
Mike Shaffer, Driver and Crew chief
for 29 years, starting with BMX and then age 16 in drag racing. His first desert race was sixteen years ago.  Shaffer was driver of record for the 2012 SCORE season, winning his fourth SCORE class championship, this time in class 4. Shaffer was also driver of record for 2011 BITD Championship, finishing 3rd in class for the team's first participation in Class 10. In all, Shaffer was driver of record for three Baja 1000 wins,  four SCORE Class Championships, a BITD Championship in Class 1700 as well as rock crawling National Championship and ARCA Championship.
Mike Shaffer is the owner of Shaffer's Offroad helping customers build the vehicle of their choice, from bolt on accessories to custom one off vehicles.
Daniel Aeberli, Driver
Daniel Aeberli has raced with the Shaffer-Motorsports team since 2010. Aeberli was a driver in the 2012 SCORE class 4 championship winning season as well as the 2012 class 4 San Felipe 250 win. He was a driver in the 2011 and 2012 SCORE BAJA 1000, finishing 2nd in class 4. Aeberli was also driver for 2011 BITD Championship, finishing 3rd in class 10.  Aeberli was with the team in 2010, helping them win SCORE Primm and Class championship in Class 1700.
Daniel Aeberli is the CTO of MediTron S.A. a Swiss medical distribution company that he co-founded over 20 years ago in Switzerland and President of M.D. Visuals a medical consulting company in Stateline, Nevada.
John Cantrell, Driver
John Cantrell has been a part of Shaffer-motorsports team since 2010 when he joined to help Baja 1000 effort. Since then, John has assumed both co-driver and driver duties with the team. John was a driver in the 2012 SCORE BAJA 1000 race finishing second in the race and ultimately contributing to the SCORE class 4 championship season.  Outside of racing and off-road motocyles riding with his son Hunter, John is a mechanical engineer and R&D project lead at Hewlett-Packard working on Ink jet printers with 25 years in manufacturing, design, and R&D.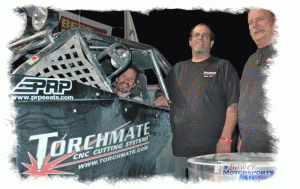 THE CO-DRIVERS
John Bowers
Chris Miller
Berne Strom
THE PIT AND CHASE CREWS:
Andy Farris - Amber Strom -  Andy Stone - Dan Bergin - Ray Swanson – Big Rich – Shelly Krehbiel - Josh England – Hunter Cantrell - Hector Miguel Maymes Candolfi – Edwardo  Maymes Candolfi – Randal Morrison – Kim Morisson.
On behalf of the entire team, we would like to extend our deepest thanks to all of our sponsors for their support and for representing the finest in motorsports technologies:
Transfercase Express, Boztec, PSC steering, Ruffstuff specialties, Power Tank and Shaffer's Offroad