We had left for San Felipe a week early to get some valuable per-running in. As we would be making a drivers changes, with separate sections to pre-runners we managed to cover the entire course, up to three times, during the first three days. I did manage to get stuck with our new per-runner but had the pleasure of being help by Cameron Steele and Jesse Jones , now how cool is that, thanks again guys.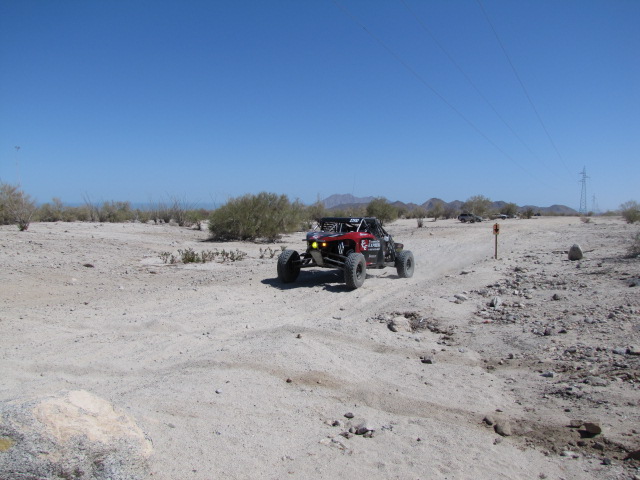 Anyway on Thursday we decided to fine tune the Transfer case express class 4 buggy for the extra large size woops, even though this late in the game was risky. After a few passes, Mike though we had a loose bolt somewhere, as he could her "something" making a metallic noise. A few more passes and the shock where getting real close to dial in. There was still an issue with the car wanting to swap ends at the transition point from driving in the woops to driving on top of them with the longer woops. It was then that transaxle sounded as if it had exploded. As we where to find out, third gear had given up. It had and tosses a tooth into the case, eventually disintegrating itself. Despair reigned, the only consolation was that it would have happened in the race, if we had not tested. We had about 38 hours to race start, so we called up Ron Weddle, to see if he could help, and he gave us several options. After some debating we decided to drive to his shop, as he would meet us there even in the middle in the night. Not only did he keep that promise, but he found a spot in his motor-home for our guys. After an emergency overnight rebuild, 2:30 am t'ill 7:30, we had our transaxle back. 23 hours after it had left, our transaxle was in SF. We got the Transfer Case Express car trough tech that night, thank you Ian, Andy and Ron for going the extra mile… and then some!
The plan now was to drive conservative until we where sure everything was fine and then gradually push harder. Well we hadn't even got up the first wash when our first flat cost us an unplanned (no duh) 11 minutes "down" time. At that point I had already gone to race mile 125 and lost contact with what was going on.
By the time the car reach me, we had closed the gap back down to 9 minutes. With full tanks and a new spare, as the car had tossed the last spare out in the desert somewhere, we took off. We had lost track of split time in our preparation, so Berne and I left thinking we had about 14 minutes to catch up. We also knew that if we lost this race, it would be nearly impossible to go for a season win, so we floored it.
The initial part was a hard packed, rocky and wooped out section, giving us an immediate taste of what laid ahead. After passing a couple racers, we started down Matomi wash. As we started to wind our way down, we passed quite a few cars whose race was over, the rocky transition area had taken them out. We almost joined them when I had chosen to go right of a maytag size bolder and Berne called for me to go left. We stopped within inches. Cursing and swearing I put the car in reverse fearing we were stuck but the Transfer Case Express buggy moved and so we return to the race. Knowing that the toughest part lay just ahead, the cross-grain section leading towards Azufre wash, we did our best to enjoy the higher speed section of lower Matomi. The transition was even worse than I remembered, and beat us into a pulp. About five mile out of our next pit, the car felt strange, but I could not put my finger on it, the roughness just overwhelmed it all. About two miles away from the pit, the wop-wop sound of a flat tire confirm the sensation I had earlier, we had our second flat of the day. Since it had been several miles of rough rocky terrain, we knew the tire and rim where already shot, so we push on to the pits, for a faster tire change. A mile out we confirmed we would be stopping as we now had tire shreds flying over the car. We got the "roger that" from Chris and Andy followed by "419″ is just driving by! I damned the flat we had, but now I knew I could catch them. It took Baja pits and our guys quite a while to hammer off the rim, it had just about wrapped itself around the brake caliper. After what seemed like interminable minutes we took off for the chase.
Azufre wash was quite hammered by the racers since our pre-run, but was still a nice windy wash with no "big" surprises. By the time we reached the top, we were in 419s dust. We patiently waited for a good opportunity to pass and did so just before the last straight away that send us across Morelia valley floor. At the end of the straight away we made the 90 degree turn to head down the valley and the clutch stuck. I had no gears, pumped the clutch a couple time got it unstuck and got us going again, just about when the Transfer Case Express buggy was going to get stuck. Berne and I both though we would see 419 blow by us but it didn't happen. We headed down the valley in a huge wooped silty wash, soon to make another 90 degree turn and head back up into Huatamote wach. Driving up the straight away, we had the buggy on the top of the woops, hit a couple larger one that sent us sailing though the air. We must have clear at least a couple woops, I hope someone got a good picture, as there were people standing there. Heading up the wash was nerve racking as it is very soft, almost silty, wooped and steep, but the transfer case express buggy handled it just fine. Soon we were in the transition area, a quite rocky section with several rock drop offs. We got word that 419 was 15 or so minutes behind us, we relaxed as we raced back down what was now a high speed and wide open wash. We called in to our next pit, and told them we had no issues and would be speeding on by. With the exception of another rock crawling section linking both washes, the remaining two washes, Chanate and Amarillas, were the fastest in my driving section and we flew up and down them mostly in top gear without issues.
We drove through the last of the woops transiting out of Amarillas wash, jumped a couple booby traps, flew on top of the small woops along the power line road and turned onto the last straight away. The car felt squirmy although not bad enough for me to suspect we had another flat. But the last turn onto the pavement, what must have looked like a power slide, confirmed it, our third flat…. dang.
We finish first in class 4, some 10 minutes ahead of second place… Woot!
thanks to all our sponsors…..Transfer Case Express, Torchmate CNC Cutting Systems, PowerTank, RuffStuff, PSC Steering, Shaffer's Offroad, and a special thanks to Ron Weddle for the above and beyond service and to Betty Twitchell and familly for the hospitality!