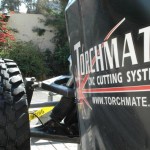 OAKLAND, CA     NOVEMBER 29, 2011   Torchmate Racing Shaffer-Motorsports team car #401 finished second in class, for their first apprearance at the 2011 Tecate SCORE Baja 1000, after completing 705 miles through the most grueling terrain in Baja with only 10 minutes separating them from the leader.
Beside Daniel's driver seat report below, complete race reports can be found at our sponsors, Torchmate Racing:
http://www.torchmateracing.com/Baja%201000/Shaffer%20Baja%202011.html
Bower Motorsports Mediamedia
http://bowermedia.com/2011/12/torchmate-racing-shaffer-motorsports-finishes-2nd-in-2011-baja-1000/
and within the full baja report on Pirate4x4.com:
http://www.pirate4x4.com/trailreports/baja-1000-2011/index.php
The team is currently headed to the final Best in the Desert Race where Class 1000 #1066 is in points contention for the lead.  The TransWest Ford Henderson 250 will take place on Saturday December 3rd.  Team updates will be posted at www.facebook.com/shaffermotorsports.
Special thanks to all the sponsors that helped with the Shaffer-Motorsports 2011 Season including Torchmate CNC Cutting Systems, BFGoodrich Tires, Transfer Case Express, Rigid Industries, PSC Steering, RuffStuff Specialties, Weddle Industries, Yukon Gear & Axle, Shaffers Offroad and Pirate4x4.com.
2011 Baja 1000 Video Library:
Shaffer-Motorsports #401 Pre-Race: http://www.youtube.com/watch?v=XxxG8liSiOc
Shaffer-Motorsports #401 After Leg 1: http://www.youtube.com/watch?v=eMe61CUHxTY
Shaffer-Motorsports #401 After Leg 2: http://www.youtube.com/watch?v=AmV3vYoyIUA
Shaffer-Motorsports #401 At Finish Line:  http://www.youtube.com/watch?v=ijC_mxiKWR8
Shaffer-Motorsports #401 In-Car Video: http://www.youtube.com/watch?v=7VNu8VWdgGM
Shaffer-Motorsports Facebook Page: http://www.facebook.com/shaffermotorsports