by Daniel Aeberli
My Baja adventure started two weeks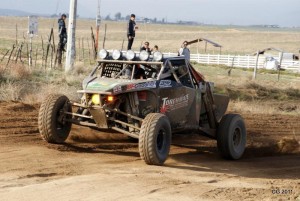 before the race when I flew into Oakland, CA to help with final car prep. A week before the race, we drove down to Ensenada and discovered the wash filled bank to bank with water! We hoped it would drain, worse case we though the start/finish would be relocated.
We spent the next three days pre-running the course. The lesson learned was that good offroad vehicles, even with 37′s, do not necessarily make for good pre-runners. The vehicles were great, but with the extra gear and people it made for slow progress. Having said that, I had a blast pre-running, here we were out in the middle of nowhere wheeling with some friends through beautiful and challenging terrain…it doesn't get much better that that.
On race day I was assigned to Start duties with John, Adam and Hugo. We waited through the re-start of the Trophy Trucks, watched Mike in the Torchmate 401 take off and then headed to RM510 with Hugo, in the hopes to see the motorcycles. We actually got there just after sunset and to late for the leaders, they had gone by 20 minutes before, so we headed to RM200 for the driver changes.
We soon found out that Mike was getting unstuck by Berne as the silt beds had evolved considerably since their pre-run visit, his line was no longer a good one. I would be getting in the drivers seat in the early morning hours so I decided to get as much sleep as possible and headed for the back of Daniel Rosenbury's truck. I awoke to daybreak, that was not a good sign… either they had forgotten me or the Torchmate 401 car was in trouble. I was relieved to see almost everyone sitting around a camp fire, at least I was not forgotten. 401 had gotten stuck in the silt two more times. Soon thereafter came the call that the alternator was not functioning properly, an attempt to fix it was preempted by the part arriving with chase 7. At about that time 402 drove by, I had a good look at my target. An hour or so later, I was put in the driver's seat with Berne as my co-dawg, as the car received some much need fuel and a new BFGoodrich tire. The tire had lost some pressure, probably had just unseated itself during a hard hit at some point, as it tested fine later.
As I gave gas to leave, the car started to dig in and bog down, so I pinned it and roosted my pit crew, ooops, sorry guys! Berne and I discovered the woops everyone was complaining about, and we knew why. Berne quickly told me to take it easy, as Mike had informed him the transaxle was making noise and Shawn had confirmed it had received quite a beating during the San Felipe loop. The next 15 miles we weaved our way through the woops trying hard to spare the transaxle. At RM465 we entered our first wash and was I glad to be out of the woops! We dodged rocks for the next five or so miles, the course then smoothed out as we flew along the highway and soon turned onto Mike's Sky Ranch Road. It felt and looked like a boulevard, for the next 30 to 35 miles the race car's top speed was to be the determining factor in getting it. I kept 401 pinned as much as possible, we manage high 80 and sometime got into the 90s, but any unevenness or slight turn would scrub the speed down quickly.
Somewhere near RM500 I think, I heard we were still an hour out, and my hart sank. I had taken it easy in the woops, but had non the less hoped for some gains. The road had gotten windy, the transaxle was not giving me any signs of trouble, so I started to push myself, power drifting out of turns and driving over blind crests at uncomfortable speeds. Every time Berne called out a mileage marker (every five miles) I gave myself a pep talk to keep on pushing. By now we had started across the washes back down towards the Pacific Ocean. During the pre-run I had a couple of areas there that had made me nervous, with the Jeep I had had the impression I was rock crawling. Berne expertly steered me through them, they went by with such ease I was dumbfounded.
We again had reached a section of higher speed trails, by now I had all but forgotten our transaxle issues and was pushing, the car felt predictable and we were in a grove. We soon crossed the highway and were headed to the ocean. We were coming up on the next hurdle I had identified, a relatively long silt bed, just after a gate. As I recognized the section I started to give it gas, we were taking a beating, Berne had me slow down as the entry into the silt had a good kicker, I back off a little. I am hoping someone has a movie of it, because we flew into the silt bed, a wave of the stuff engulfed the car. I thought I had overdone it and had just buried the car. The jolt never came and the sky reappeared. We were lucky and had made good progress and even exited the other side still in second gear. We had been in a grove for a while now, it seemed as though things were getting easier and easier. Heading back up the coast we alternated between decent dirt paths and real rough rocky wash sections. They where rough enough to have the steering ripped out off my hands a couple of times, and my wrists were starting to complain. We were on the look-out for reported boobie traps in this section, luckily they either were cleaned up or we somehow missed them.
On our pre-run we had located an ever steepening descent off a plateau into San Isidro, but I was so comfortable with the car by then, that I barely slowed down to see if I was lined up properly. On the way out of town, a steep climb I was worried about seemed like child's play, man I thought to myself, I need to get a good pre-runner! Continuing up the coast we alternated between decent paths and real rocky sections trough washes again. During the pre-run this had been the most scenic portion of my drive, definite summer home area. Funny tho, I did not notice that this time through. On the way back towards the highway, I though I heard someone say we were 20 some miles out of the lead, in the midst off yells to GET-IT! I tried doing the math of the gains we had made but gave up…I could not do it while driving. I knew we had gained and that was all the motivation I needed. In Santo Tomás we headed up the highway at sixty trying to relax. Traffic cleared the way nicely for us, I was happy. At race mile 620 we dove into Uruapan, pre race prognostics said this was going to be the racecar killer section. The terrain alternated between steep climbs, drops in and out of small riverbeds, and running along ridges all filled with rocks, rocks and bigger rocks. At times some short stretches of woops were worse that in San Felipe, on a couple I though we would high-center… not really-but it crossed my mind.
We eventually dropped in and wound our way up an Arroyo, slaloming between trees. Somehow the whole thing seemed out of place. After we exited and progressed down the course the rocks became boulders and the turns became sharper. As we wound our way through, we got word we should stop for refueling at about RM650, just before check point 6. There I was told we were just over 10 minutes out of the lead. I think a fuse popped in my head… Really! 10 minutes? While Berne had a conversation with Mike on our backup channel about the team in front of us listening in on our channel and a scheme to throw them off, I was working on resetting the fuse in my head… I wanted Mike to be at this refueling point real bad for a driver change, I was sure he could reel them in within the next 45 miles.
Before I knew it everyone was yelling GO GO GO, I had an hour to make up some 10 plus minutes! I pushed the pedal through the floor. After his fake radio call, Berne had subtly started to try to push me even more. We would get trapped behind a class 13 truck stopped because of a broken 10 car, just after the check point. The seconds seemed like minutes and the minutes like hours, boulders to the right and left, no going around. Berne had to calm me down. Once the path was cleared I almost drove over the 13 car, luckily, they quickly moved over. Our radio trick almost worked, 402 took some extra time at RM660, but did not make the driver change they we contemplating. The chase was on, we soon passed Mike and most of the team at RM660, and dove right off the map. The final GPS file we were given was missing the course from RM660 to 665 and we had not pre-run it as it was closed until the last day! We were playing ketch up blind… oh yeah!
We regained a GPS track none to soon, I was blowing corners and need to regain composure. We where no longer slowing down for mud holes and getting a free mud bath, a cold one unfortunately. A few miles up the hills past Ojos and we where headed down to Ensenada. On the way we blew a fork in the road, went left and had to cut across a field to the road that went of to the right. Shortly thereafter we saw some dust on the road, we crested a ridge and saw a motorcycle, we both sighed in disappointment. A bit later we made a sweeping turn around a ridge to discover a boulder had been rolled down the hill right into the center of the course, it took me too much time to react, we drove over it. Thankfully it made more noise that damage (bent skid and crushed tube). A bit further I blew a right turn, I did not want to force it as it was through some big gates, hanging it out there too far would have hurt. We stopped just off course but I could not get reverse to engage, my nerves were working against me. Just as we decided to circle around, I finally managed to back it up. Wouldn't you know it, now I could not get it in gear!
Berne and I tried all the gears, and finally he got it into third and we were off. The course was heading down hill, so I kept the car in third. I soon realized that the heims holding the shift linkage had most likely filed with silt, dirt and water and were binding up the linkage, as it had done at the Silver State. As we approached a wash, I tried second, we would need it on the way back out, it shifted! It was not long and we hit the pavement, we were in Ensenada! We passed a stopped race car and hoped it was fixable, getting this far and not finishing would be AWEFUL! I could smell the finish line, sweeping left on Ruiz, a sharp bumpy left turn on Ambar, a right turn into the wash, the S turns, stay to the left, a sharp left up out of the wash, a sharp right, a sweeping right and the last right….. FINISH LINE in view!! OH YEA!!! Now don't forget to slow and stop, and slowly creep up the podium…. dang gears won't engage… put-put up in third, WE MADE IT!
Berne and I may have crossed the finish line, but we were 22 team members that finished the race and Second in our class non the less! I'd like to extend a special THANKS to ALL of you
Eric Morales, Josh England, John Cox, Chris Miller, Amber Strom, John Cantrell, Hugo Ortiz, Big Rich Klein, Shelley Krehbiel, Don Blakely, Doug Blakely, Brian Bonam, Jeremy Patterson, Adam Arsenault, Scott Watkins, Ben Holliday
This great Baja adventure would not have been without YOU!
A BIG thanks to our Sponsors: Torchmate CNC Cutting Systems, BFGoodrich, Transfer Case Express, Rigid Industries, PSC Steering, RuffStuff Specialties, Weddle Industries, Yukon Gear & Axle, Shaffers Offroad, Pirate4x4.com