Well it's been a while … Our plans called for racing BITD "only" so we had a long summer break in our racing events.  Our next race, is V2R, we are now in full "prep" mode, but I though I'd update you with what we do when we are not racing…
…we are racing of course!
So here's a driver's report from Chris Miller… with our congrats on their excellent results!!!
Black Rock Motorsports 1655 takes 1st out of 5 in class and 3rd overall at Bonneville Off Road Racing's Jackpot 250 ! Drivers Ian Twitchell and Chris Miller, co-drivers Derek Olsen and Heath
Preparation and preservation was the name of the game for this year's Jackpot 250. Black Rock Motorsports team partnered up just weeks before the last BORR Wendover 300 race leaving a mad rush of "preparation". Transmission back from builder last minute, engine install only to find oil leak (crack), engine tear down, scramble to find parts, rebuild … finally everything assembled day before the race. Ultimately in the rush, missing set torque of one bolt was what took us out of competition with catastrophic blower failure. Not this go around – we were determined to be properly prepared !
As soon as we were back from Wendover race we were right back on prep. Wheels sent off for repair, new blower and alternator, valves set, timing, carburetor tune, tires ordered, etc. The plan was to get in at least a day of testing as a shake down before we were in true race situation again. An afternoon of testing went well and the preparation continued. At Wendover we ran some old BFG ATs on the rear instead of the traditional Yokohamas – the BFG ATs seemed to work surprisingly well. Our "secret trick" was to remove the squared off edge of the tires with a sawzall to accommodate the pleasant drifting nature of the 16 car. So we ordered a few more and set Chris off into a sweaty madness with all the tire sawing and beadlock tire changing trickery.
It was decided for good measure to take the car back down to Art Thraen at Air Cooled Engineering in Murray, UT for a final look over and adjust before heading out to the race. Good thing we did, the valves he had just adjusted before our day of testing were over .060" out – after only a couple hours of run time ! Apparently there were some not so good batches of VW valve adjusters that would just give way. The scramble was on to track down some of the reliable Porsche 911 adjusters … on a holiday weekend, days before leaving to race … uugh. Art stepped up and pulled some contacts and extra hours to get the engine back in shape just in time for us to leave town as planned.
Last year Jackpot beat both Ian and Chris. Ian, in the 16 car, rolled in the wash and ultimately DNFed. Chris, on motorcycle, had a season ending crash in the boulder field of "hell hill" that left him even more "skeletal metal". This time we were back to soothe the rocky beast of Jackpot. The mantra we both chanted before and during the race was preservation, preservation … Chris would drive the first three laps and hand the car off to Ian for the last three. Our pre-running was limited in a stock truck, so Ian co-drove for Chris the first lap before Derek Olson would step in for co-driving duties on laps 2 & 3. This would also be a chance Ian could give first time driver Chris some driving pointers.
Suited up and strapped in we staged for the start … well, sort of. There seemed to be a little chaos about the line up. The two 10 cars took off and it seemed no one else was really quite ready. Our pit chief Shawn Twitchell checked with the start official, "Dezert Doug" who waved us over and pretty much as we rolled up, he waved the green flag. We are off ! Third off the line and Chris is gleefully rolling through the gears when Ian comes over the intercom "whoa whoa whoa … this is pit area, 15 mph, slow down, slow down !" just as the "RESUME RACE SPEED" sign comes into focus. "What the ?!? why would they .. no way.." Chris protest as we see a ranger lift a radio to speak into. "I think he just called us in." says Ian. They got to be kidding. Distracted, we didn't exactly jump out at race speed, but worked our way up as we got away from the main pit crowds.
Ian with his experience was spot on with callouts from the co-drive seat. His "driving tips" for Chris pretty much consisted of "stay on it, stay on it !" The first lap went well with a deliberate 2nd gear crawl through "easy street" boulder field and even a 1st gear crawl up "hell hill" boulders. The primary intent was to keep the car together for Ian to drive the second half the race, and that was exactly how we were going at it.
At the pit end of lap 1 we did a co-driver change and Derek Olson jumped in the car. This was Derek's first desert racing experience – let alone being strapped into the mini missile of this 16 car. Being in the co-drive seat feels way crazier and more out of control than being in the driver's seat, and Derek was about to get a full dose. In Lap 2 Chris was getting a bit more in the rhythm of things but now had to "teach on the job" co-driving duties for Derek. About 1/3 of the way through the second lap Derek's heavy breathing exchanged for some good GPS reading and gage monitoring, he was quickly getting the feel for it. Still, emphasis being on preservation – picking lines through the boulders and staying in control, Chris' theme was keep the car together to hand off to Ian.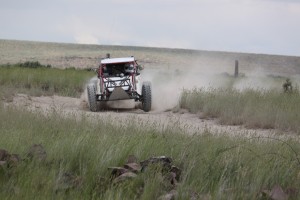 Lap 3 was an uneventful repeat of lap 2, still slow in the rocks but this go around Chris was getting cornering entry and exit much more dialed, consistently bettering lap times. End of lap 3 was full driver and co-driver change. Ian would jump back in the car this time as a driver and Heath would take co-driving duties. During the change it was noticed we had lost some link pin bushings on the driver front wheel. The wheel had slop, but appeared as though it should stay on – so we hoped ! Ian used his experience to keep laps 4 and 5 good laps without problem.
The last pit we noticed a 9 car had been closing in on us. They started off the line behind us so we owed them time. Based on this, we realized they could actually be ahead of us, although physically behind us a ways. Pit crew scrambled some hills with binoculars to check times between the two cars out on course. Finally, way off in the distance our 16 car was spotted and clock checked … counting down … watching the same spot for the 9 car to appear. There they were – actually ahead of us on time ! We needed to shave about 4 minutes off our time in the last ½ lap. Shawn calls Ian on the radio to let him know, "If you can, you'll need to step it up a bit, there is a 9 car just ahead of you on time. We need to get 4 minutes on him." Ian stomps on it. Game on !
There is one last spot several miles before the finish where the cars come into view. Binoculars out the crew was watching the clock and waiting. By this point as the cars came through we appeared to be nearly matched on finishing time. Not much longer, our 16 car crosses the finish line. Again, everyone checks their watches. It is going to be close ! The 9 car is in sight of the finish and we still need 30 seconds … counting down … he is on the final straight … and * whooot * – Ian made up over 4 minutes and beat the 9 car by 6 seconds on time ! First in class and third overall.
Huge thanks to our friends and families that make this all possible !
Focus is back to the 1066 for Vegas to Reno, but only two weeks later 1655 crew will be back together for BORR's Ely 225, September 03, 2011.